"Paul Neagu. A Retrospective" at the National Museum of Art, Timișoara, Romania (16.12.2022-15.04.2023)
The first exhibition on such a comprehensive scale to be dedicated to Paul Neagu (1938-2004), the Romanian-born artist who lived and worked in the UK from 1971 onward. The exhibition highlights all the stages in Paul Neagu's working career, presenting a vast selection of drawings, objects, sculptures, documentation of performances, and other adjacent materials, such as artist books, sketchbooks, and photographs. Neagu's work is being rediscovered by artists, critics, curators, and thinkers in various fields, and has become a source of inspiration due to its engagement with a multiplicity of disciplinary approaches, which transcends cultural and geographic contexts and goes beyond such dichotomies as nature/culture and subject/object in the practice and reception of the artistic act. Alongside many other characteristics that make it inciting for the present day, Neagu's art is particularly relevant thanks to the innovative way in which it conjoins the body and the senses in order to reach a spiritualised knowledge that re-imagines the place and the role of the human in the world and its relationship with the cosmic dimension. More details.
Paul Neagu – The Monograph
Published by JRP | Editions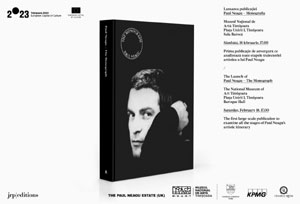 This monograph dedicated to the Romanian-born, UK-based artist Paul Neagu (1938–2004) represents the first comprehensive overview of the artist's oeuvre at a time when his activities as an artist, both in Western and Eastern Europe, are ripe for reassessment. Paul Neagu settled in London in 1971, but the seeds of his artistic practice and methodology had already been planted by then. A versatile artist, excelling in both two and three-dimensional forms of expression, Neagu was also a performer, writer, and thinker. The book offers new interpretations of his themes and cycles of works (such as tactile art, the concept of Anthropocosmos, the Hyphen, his major sculptural invention, and later projects of »visual hermeneutics«), taking into account the socio-historical and subjective factors that structured Neagu's trajectory.
Edited by Magda Radu and Georg Schöllhammer. Commissioned by The Paul Neagu Estate (UK).
Launch Event (part of the Timișoara 2023 European Capital of Culture programme): 18 February 2023, National Museum of Art, Timișoara. Details.
The book (English edition) can be purchased from Cornerhouse Publications (orders from the UK), artbook (orders from the USA), les presses du réel (orders from France) and La Două Bufnițe online bookshop (orders from Romania). Other retailers to be added in the future.